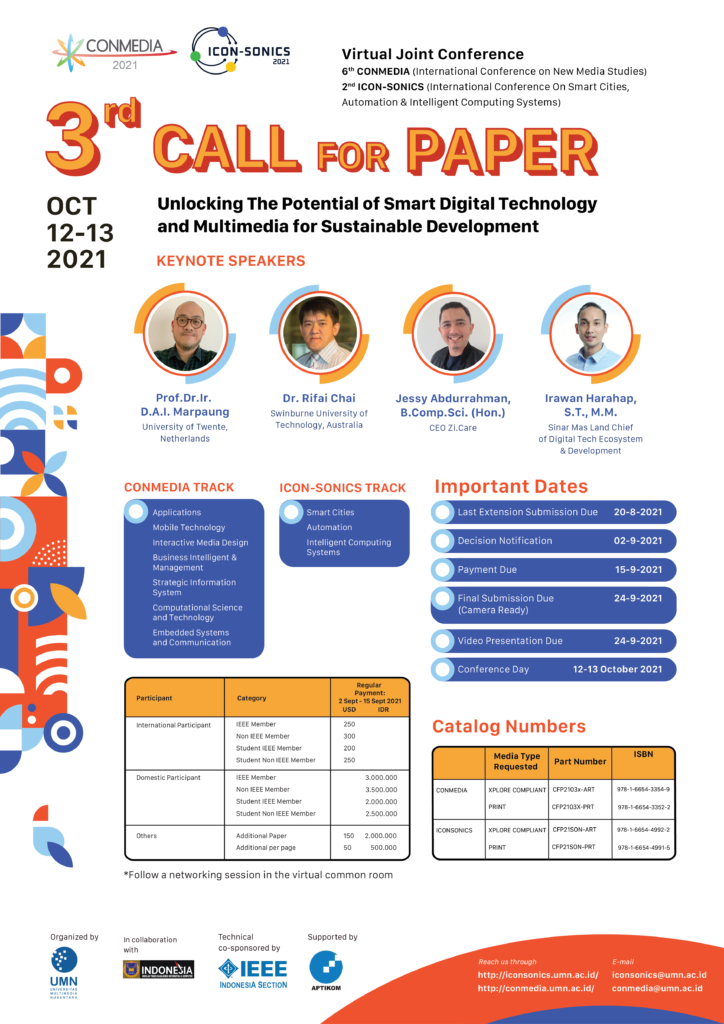 The conference is to be held as a virtual conference on 12-13 October 2021. It is organized by Universitas Multimedia Nusantara and technically sponsored by IEEE Indonesia Section. ICON-SONICS focuses on both theory and applications mainly covering the topics of smart cities, automation and Intelligent Computing Systems. In addition to the technical sessions, there will be invited sessions, panel sessions and keynote addresses. We solicit full-length, high-quality, and original papers on the following topics:
Big data acquisition; Biometrics; Enabling wireless and mobile technologies; M2M Communications; Sensing and IoT architectures; Cloud computing and network infrastructures; Crowd sourcing; Reliability, Security, Privacy and Trust in smart cities ecosystems; Communication protocols; Urban population modeling and simulation; Advanced robotic systems.
Industrial 4.0; Factory modeling and simulation; Home, laboratory and service automation; Network-based systems; Planning, scheduling and coordination; Automated Material Handling; Asset Management Systems.
Neural Networks; Swarm Intelligence; Bioinformatics and Computational Biology; Computational Intelligence in Biometrics and Identity Management; Modeling and Simulation; Classification and Clustering; Feature Extraction and Dimension Reduction; Natural Language and Speech Processing; Control and Automation; Computer Vision; Communications Systems and Cyber Security; Signal Processing; Evolving, Adaptive and Autonomous Systems; Robotics, Security and Defence; Engineering and Industrial Applications; Sensor and Actuator; Optimization Methods in Learning; Evolutionary Computation.
ICON-SONICS 2021 will be an International Forum for those who wish to present their research and innovations. It also offers good opportunity to discuss the main aspects and the latest results in the field of Smart Cities, Automation & Intelligent Computing Systems.
We invite you to submit your paper via EDAS and to attend in order to share your achievements in the fields of Smart Cities, Automation & Intelligent Computing Systems. 
| | |
| --- | --- |
| General link for conference | TBA |
| Submit paper | EDAS |
All the accepted and presented papers will be submitted to the IEEE Xplore Digital.
We look forward to seeing you in the conference!